Jetglass
FOR A SPECIFIC SMOOTH FINISH!
A crushed glass for sandblasting and pool filtration.
Silica free (<0.1%) and containing no heavy metal JETGLASS® is inert and stable.
For jet cleaning works such as those found in the automotive, stainless steel, and wood industries; JETGLASS® gives a specific smooth finish. Olimag is offering a wide range of options.
JETGLASS® gives a smooth finish no matter your need, to clean surfaces such as rusted metal or concrete, try JETGLASS® 10-20. Our JETGLASS® 20-30 is used for new steel, structural steel, industrial equipment and heavy machinery, while our JETGLASS® 50-90 is recommended for stainless steel, automotive, wood, fiberglass, aluminium or galvanized steel. You may also note that JETGLASS® is used in filtration for swimming pools or other water systems.
Ask us how to best use our JETGLASS® for any specific jobs you may have.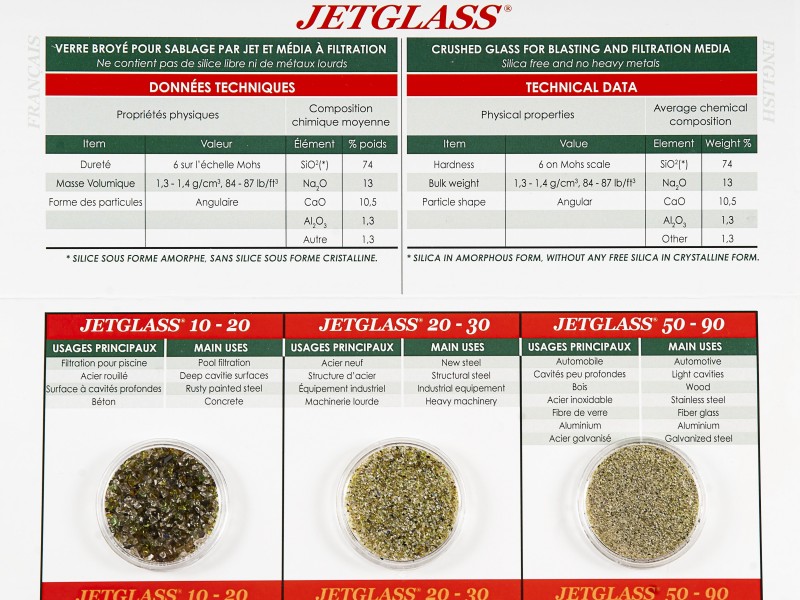 A MAXIMUM PROTECTION FOR THE WORKER AND HIS ENVIRONMENT!
JETGLASS® blasting media is composed of crushed glass; it's not considered hazardous waste for disposal purposes under the WMHIS. The use of JETGLASS® generates little dust and is safe for both the user and their workplace, it is also environmentally friendly.
JETGLASS® contain less than 0,1 % of free silica.
Also holds no heavy metals, and no toxic elements.
Easy to dispose of.
Not considered hazardous waste for disposal.
In order to meet the most demanding needs in the fields of sand blasting and cleaning, JETGLASS® is offered in the following size ranges and packages:
10 - 20  Packaging : 22,7 KG (50 LBS) Paper bag
20 - 30  

Packaging : 22,7 KG (50 LBS) Paper bag

50 - 90  

Packaging : 22,7 KG (50 LBS) Paper bag
MAIN USAGES of our different mesh sizes:
JETGLASS® 10 - 20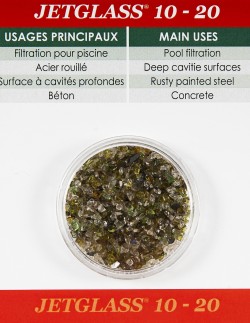 Pool filtration
Rusty painted steel
Deep cavities surfaces
Concrete
JETGLASS® 20 - 30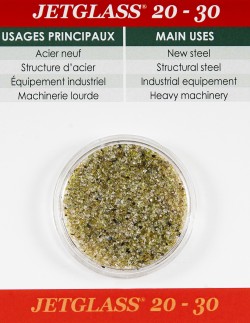 New steel
Structural steel
industrial equipment
Heavy machinery
JETGLASS® 50 - 90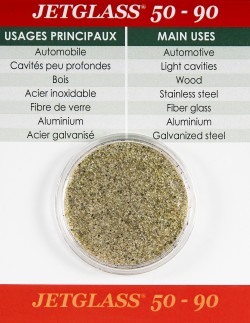 Automotive
Light cavities
Wood
Stainless steel
Fiberglass
Aluminum
Galvanised steel
Concrete pouring forms cleaning