NEWS !
Winter 2020
We've acquired a new forklift that truly is on the cutting edge of technology.
After conducting the first round of testing of our new preheating system we're happy to report great results.
Summer 2019
 After several months of meetings and discussions, the investment project of Olimag's preheating system for raw material takes shape with the first equipment deliveries and the execution of civil works.
 January 2019
 First wave of arrival of Olimag's internationally hired help. Olimag proudly welcomes two Filipino mechanics, Federico Gervero and Adrian Perez. Followed by four very happy Tunisians, Mohamed Moalla and Mohamed Laadhar, Mehdi Rebai and Kherredine Hamrouni. The Olimag team took good care of their newcomers with a full integration in Thetford (fully furnished accommodations, clothing, vehicles etc.). Despite the cold weather that we know too well, they are adapting to it very well!
 October 2018
 Olimag begins work on process improvement and product quality. The major rejuvenation on the rotary kiln will be spread over 6 weeks. With an inventory at full capacity, distribution continuity remains as smooth as ever.
 March 2018
 Not being sheltered from the current labor shortage in Quebec, Olimag has implemented an international recruitment project to fill certain vacancies. Early immigrants are expected to join the family early next year.
January 3rd 2017
During the first six months of 2017 Olimag will make capital investment in the range of 1.5 million $ to improve its process and the quality of its products:
Raw material pre-heating system
New sieving units
Automated packaging line

Electric lift truck with state-of-the-art technology to increase efficiency and improve the safety of our operations.
On top of this, a new range of abrasion and filtration products will be available starting in April.
___________________________________________________________
September 23rd 2016
NEW DISTRIBUTORS
We are pleased to inform that Olimag has new distributors in Spain, Panama, Costa Rica and Mexico for its JETMAG® line of blasting sands.
As well, Olimag has new customers in the field of foundries and steel mills for its MAGFILL® refractory sands.
PROCESS IMPROVEMENTS
Always aiming at improving its product quality, Olimag is currently adding a new air volume control system at its rotary kiln in order to ensure the most optimal production conditions at all time.
Olimag is also adding an automatic mixing system in order to improve grade blending constancy. As well, Olimag improves its dust collecting systems so to get cleaner sizing cut and meet the requirements of its ever growing customer base.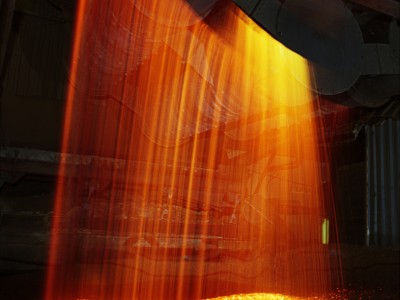 The power of fire !