Geothermal
Geothermal grout
OLIMAG sand physical properties are highly appreciated for conductive sealing grout application for geothermal works.
With the help of its MAGFILL®,100 and 16-60 JETMAG® grades, OLIMAG has developed sealing grout mixtures that ensure optimal efficiency of geothermal works.
Uses less bentonite, reduces your costs
Grout mixtures based on JETMAG® bring a high conductivity level and excellent permeability that ensure protection of the water table of the receptive grounds.
They are non-toxic and non-hazardous for users when putting in place the geothermal set-up.
They are environment friendly and are not a contamination source for water.

Geothermal grout description
Geothermal grout is a hydraulic-set fluid mortar made with JETMAG® sands, clay aggregates and polymer binding agents. It has an excellent viscosity that makes it easy to pump into the vertical drillings.
Once in place, the grout allows flooding and efficient sealing in the receptive grounds of the vertical geothermal heating tube exchangers. The grout then ensures the insulation of the tubing from any possible underground discharges and resist to freezing - thawing cycles that may affect heat bearing fluids.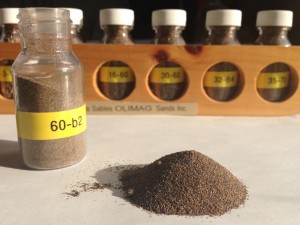 OLIMAG: non-toxic and environment friendly for complete protection of the users!
For a geothermal project on your property that respects the environment, ask your driller to use non-toxic products, ask for OLIMAG!